Hello again. Well, are you coping well in this lockdown? I must confess that up until now I have been okay, but I am becoming a bit fed up. I need to get out a bit further than the garden which is looking wonderful by the way! It's never been so weed free!!!
So, on with the show. Our sponsor this time is the wonderful Hannah Lynne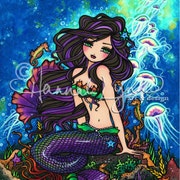 The image I have used for my card is Birthday Girl. Ideal for "awkward age" Birthdays!!
Our theme is Anything Goes with optional add sparkle Well, you can't
really see it on the photo, but I have glitter card, mirra card
and the balloons and part of her dress are inked with glitter ink.
Bye, for now, remember to stay safe!!